Where Can I Work As A Healthcare Assistant?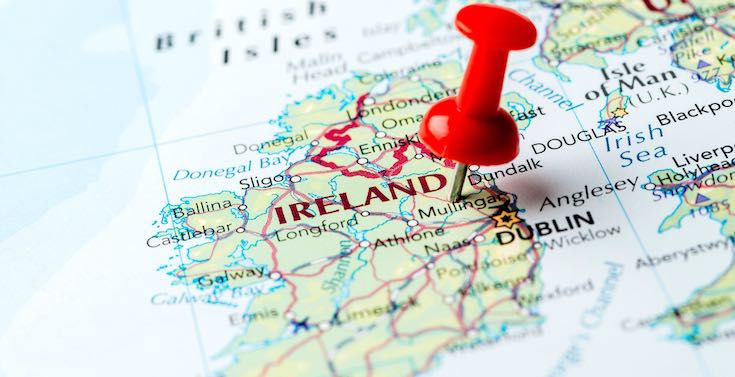 Topics Covered In This Article
Introduction
If you are a newly qualified Healthcare Assistant (HCA), you will no doubt be excited about starting your career in Ireland.
Well, the first thing you need to do is find a job!
So, where will you be able to find work as a Healthcare Assistant?
Fortunately, there are a wide variety of settings that may need your services.
You could work in the public sector, the private sector, hospitals or care homes.
Each organisation will be able to offer you a compensation package that will benefit you both financially and career-wise.
In Ireland, the Health Service Executive (HSE) operates a large number of these medical facilities.

The HSE is one of Ireland's largest employers of Healthcare Assistants.
According to reports, almost 5,000 HCAs work in the public sector.
Every year, there is a greater need for more and more HSE facilities for HCAs.
The statistics also suggest that around 30% of public health support staff are HCAs.
In Ireland, you can find HCAs in almost every medical setting, including:
● Clinics
● Hospitals
● Care/nursing homes
● Other medical facilities
Hospitals
HCAs are essential members of the hospital team.
However, in contrast to other healthcare professionals such as doctors and nurses, even non-medical graduates can work as an HCA, although you must possess the requisite healthcare skills, training and certification.
When working in a hospital, your typical duties will involve:
● Making the patients' beds and helping them go to the bathroom
● Providing meals and helping to feed patients
● Accompanying patients when they walk around the ward or perhaps outside
● Checking their vital signs, including blood pressure, pulse and temperature
If you choose to work in a surgery, your tasks will include periodic health checks on patients.
You may also have to take samples, such as blood or urine, and take them to the lab for processing.
In addition, you will also be responsible for sterilising the surgical equipment and restocking supplies.
Nursing Homes
If you find a job as an HCA in a nursing home, it is likely that many of your clients will be frail, ill or struggling with mental health issues.
As a result, it will be your task to help them with their everyday activities, such as bathing, eating and dressing.
Although this can sometimes feel like a menial chore, you must always bear in mind that you will be significantly improving your patient's quality of life.
Healthcare Jobs at Healthcarejobs.ie
Progress Your Career. Search 1000s of Healthcare Jobs
Search Jobs
However, you should also encourage them to be as independent as possible.
This will boost their self-confidence and their outlook on life.
Furthermore, many experienced HCAs who work in a care home have said that maintaining a friendly and caring relationship with clients makes the tasks much more manageable.
Services
In hospitals, you can work as a Healthcare Assistant in any of the following three sectors.
1. Maternity care
In maternity care, your role is to support the registered midwife or authorised medical professional to deliver babies. To work as part of this team, you will need to demonstrate:
● An ability to care for mothers, babies and their relatives
● Verbal and written communication skills
● Problem-solving skills
● That you can identify and reasonably respond to emergencies
● An awareness of equality and diversity issues
2. Elderly care
In this setting, you will be expected to work under a nurse or facility manager, and they may assign you the following tasks:
● Help residents with their personal hygiene, dietary requirements, and physical and mental well-being
● Clean and maintain the home's equipment
● Report any actual or potential situation that can pose a health and safety risk to patients, staff or visitors
You should also remember that you can only be assigned tasks for which you have been specifically trained. If you are asked to do something beyond your remit, you should inform the nurse in charge to prevent the occurrence of any untoward incidents.
3. Mental health care
Working in a mental health facility is quite a recent development for HCAs. Although you will not be expected to assume the duties of a psychiatric nurse, some of your tasks will involve:
● Companionship
● Friendship
● Practical support with patients' daily activities
Another potential duty could be to help clients obtain housing, employment or other services.
What Is Your Career Path?
Career advancement, such as promotion to a senior position, could influence your choice of potential employer.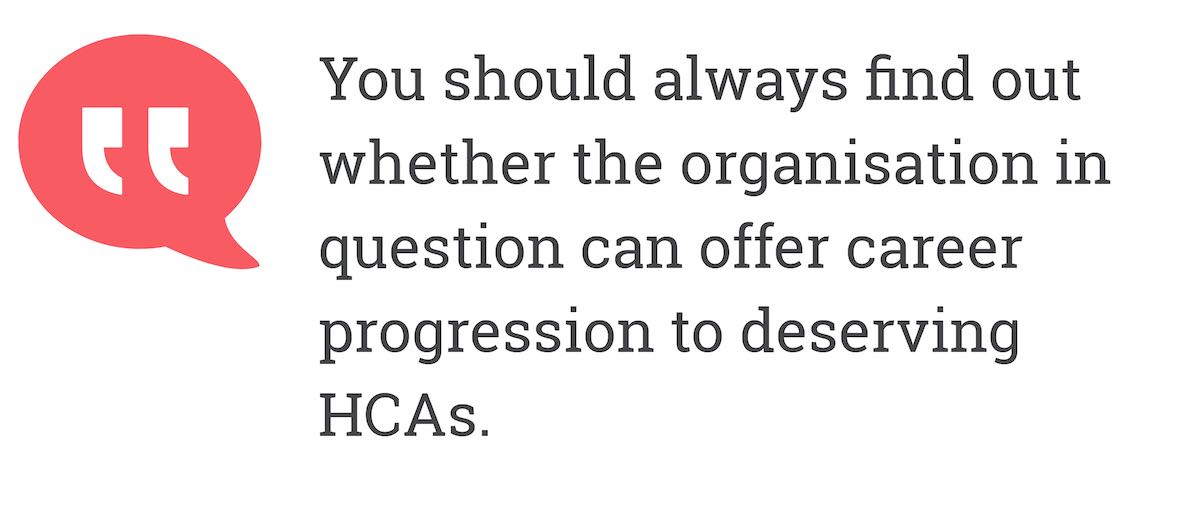 With this in mind, you should always find out whether the organisation in question can offer career progression to deserving HCAs.
However, a senior Healthcare Assistant position also requires additional qualifications and greater experience.
It also entails increased responsibility.
For example, you will need to be able to:
● Assess and review your service users
● Carry out spot checks on home carers
● File and maintain records of the patients' daily activities, service hours and observations
● Make sure that service delivery follows industry practices, policies and procedures
● Report any issues to your supervisor or manager
What Skills Are Required?
Whether you are working in the public sector or the private sector, medical organisations will expect their HCAs to possess reasonable healthcare skills and experience.
When you write your cover letter and CV, make sure you include all your relevant abilities.
For example, you could say:
● "I provide a good level of personal care to my patients"
● "I communicate and interact well with my patients, their families and other healthcare professionals"
● "I am cheerful and friendly, even with challenging patients".
The work of a Healthcare Assistant is demanding, regardless of whether you are working in a hospital or a nursing home.
Besides patience (which you will need in spades), it is also essential that you treat your service users with compassion and sympathy.
Remember, many of the people you will be caring for may be suffering from physical problems, mental health issues or perhaps even both.
Salary Expectations
The salary and benefits on offer may influence your choice of potential employer.
For instance, HSE organisations offer an HCA Band 1 annual salary of around €34,000.
In addition, the public health sector also provides more benefits. Understandably, private medical organisations incentivise their staff by offering higher wages and convenient working hours.
Conclusion
Once you have completed your education and training, finding work as a Healthcare Assistant will be your first priority.
Fortunately, there are numerous medical facilities in Ireland that will require your services.
You can choose to work in either the public sector or the private sector, while hospitals, care homes and other medical settings are all in need of HCAs.
When deciding on which route to take, it is important that you give due consideration to your preferred workload, salary expectations and career goals.