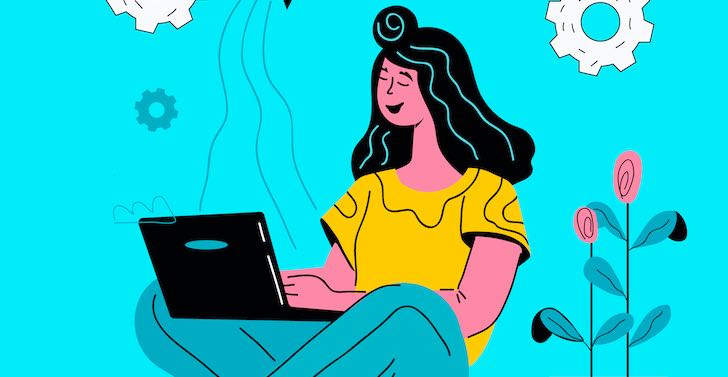 If you are torn between Physical Therapy and Occupational Therapy, then you're in luck – we have put together a quick guide to help you determine which of these careers offers the highest pay.
Introduction
When choosing a career in healthcare, or any industry for that matter, the salary will naturally be a major consideration.
After all, you will want to ensure that your career choice will enable you to live a relatively comfortable life while allowing you to save for your future at the same time.
As such, it is crucial that you do some research into what you can expect to be paid in your chosen profession.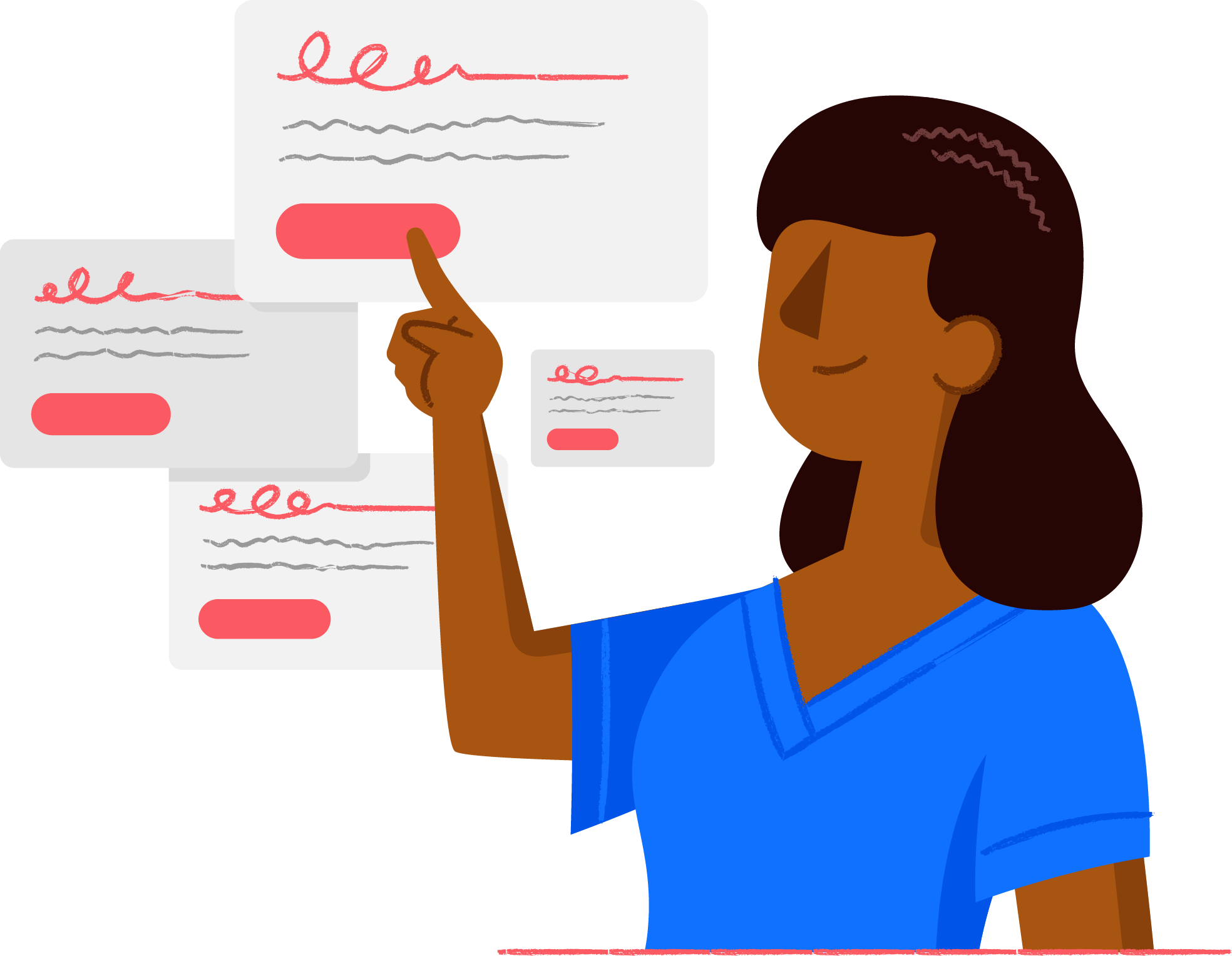 Search Jobs
1000s of jobs for Nurses & Care Professionals. Find nursing, care & healthcare jobs in Ireland.
Search Jobs
What Can You Expect As A Physical Therapist?
A Physical Therapist, or Physiotherapist, uses a variety of therapies and techniques to treat individuals with a physical problem.
If you opt for this career, you will be significantly contributing to your patients' health and wellbeing as you help them recover from the physical challenges brought about by ageing, illness or injury.
You will also be assisting people with disabilities, including children and the elderly.
A career in physical therapy offers a respectable salary, depending on your specialisation and level of experience. Here's what you need to know: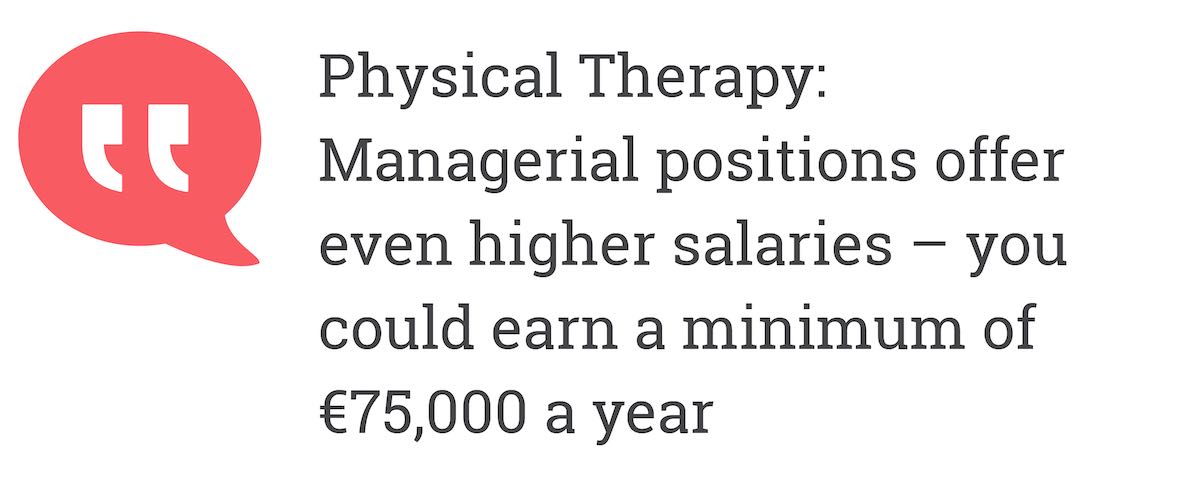 ● A Physical Therapist in Ireland can earn around €42,000 per annum
● If you work for the HSE, your salary will depend on where you are on the pay scale; for example, if you are in Category 1, you could expect a maximum of €35,000 per annum, while a Category 9 position will pay more than €45,000
● Managerial positions offer even higher salaries – you could earn a minimum of €75,000 a year
Other Benefits
Besides the considerable rates of pay, a Physical Therapist can also receive other benefits, including:
● The chance to help people and make a positive difference to their lives
● Various employment opportunities, including working overseas
● The opportunity to pursue higher education and choose a specialisation; this can help advance your career and increase your annual earnings
If you are considering a career in physical therapy, you may wish to work in one of the following settings:
● Private hospitals and clinics
● General practice
● Schools and children's centres
● Sports clinics, clubs, gyms and other recreation centres
● Nursing homes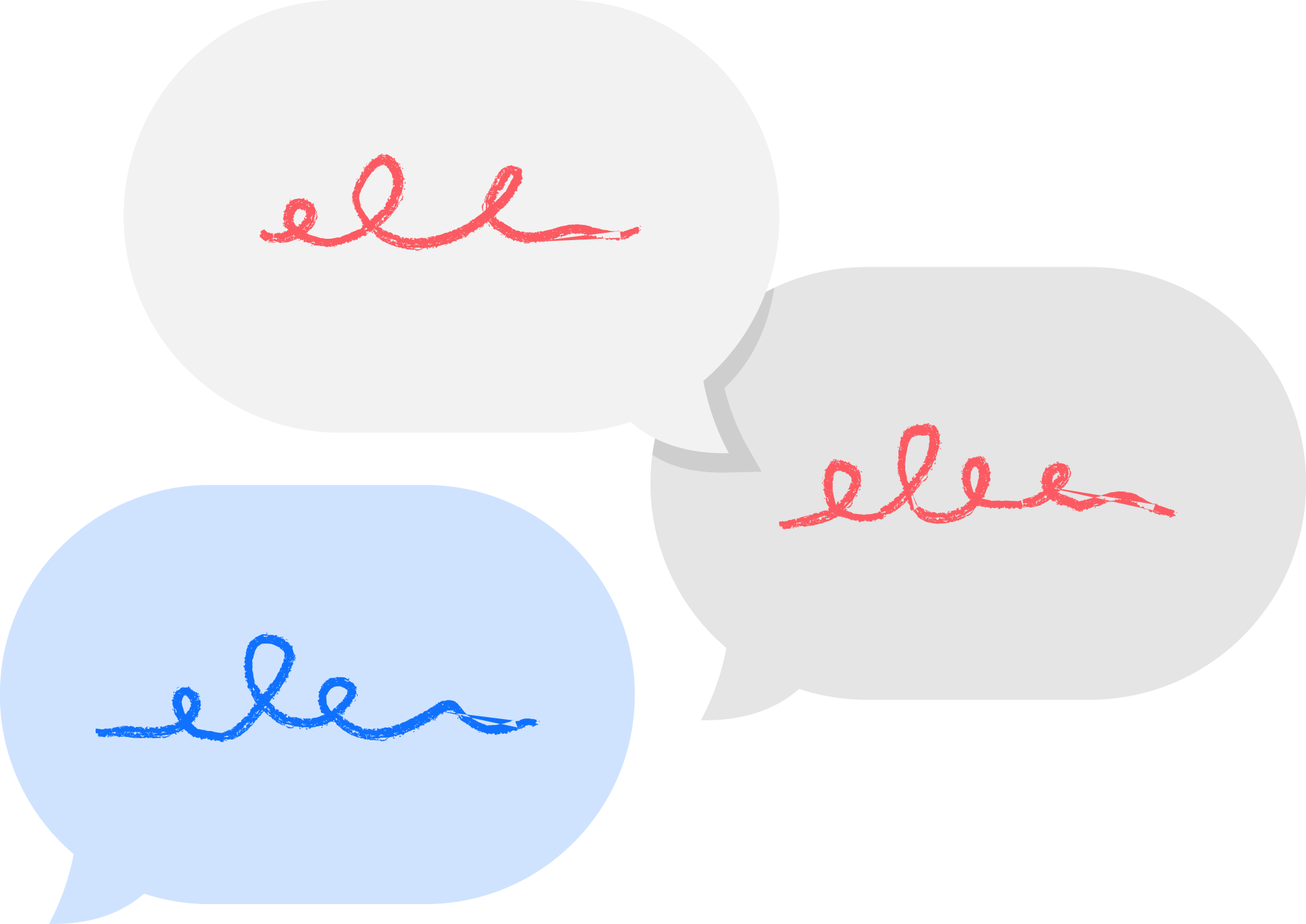 What Do You Think?
Ask questions, comment and like this article below! Share your thoughts, add your opinion in the comments below.
Comment
What Can You Expect As An Occupational Therapist?
An Occupational Therapist will not only help individuals with physical conditions but also those with social or mental health problems.
A career in occupational therapy will be ideal for anyone who is brimming with energy and has a genuine desire to help others make the most of their current situation.
If you believe you possess these qualities, you will undoubtedly find this job rewarding.
So, which of the two professions offers the better pay, physical therapy or occupational therapy?
Well, although being an Occupational Therapist is certainly fulfilling, you can earn more money as a Physical Therapist.
However, the good news is that if you develop your skills and obtain more experience, you can move up the pay scale.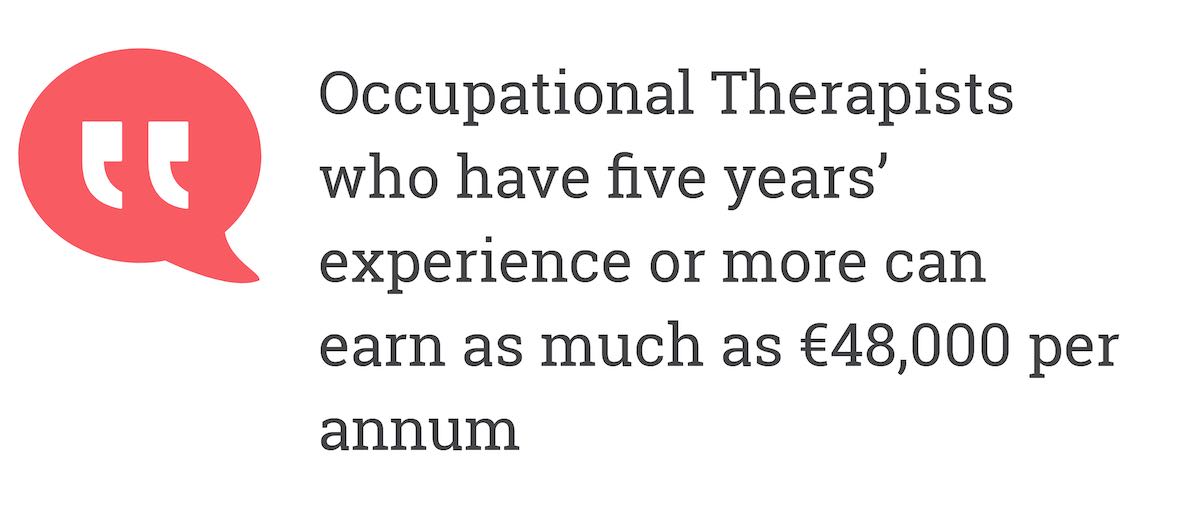 Here's what you need to know:
● Occupational Therapists in Ireland earn about €37,000 per annum
● Those who have five years' experience or more can earn as much as €48,000 per annum
● Similar to physical therapy, managerial positions offer much better pay (potentially €78,000)
Other Benefits
Besides the financial gains, there are other benefits associated with being an Occupational Therapist:
● A wide range of career opportunities
● Your skills will be in great demand in Ireland and beyond
● You will have the opportunity to meet people and have a significant impact on their lives
As an Occupational Therapist, you can work in either the public sector or the private sector, as well as in a wide range of clinical settings, including:
● Private homes
● Community facilities
● Hospitals and clinics
● Schools and businesses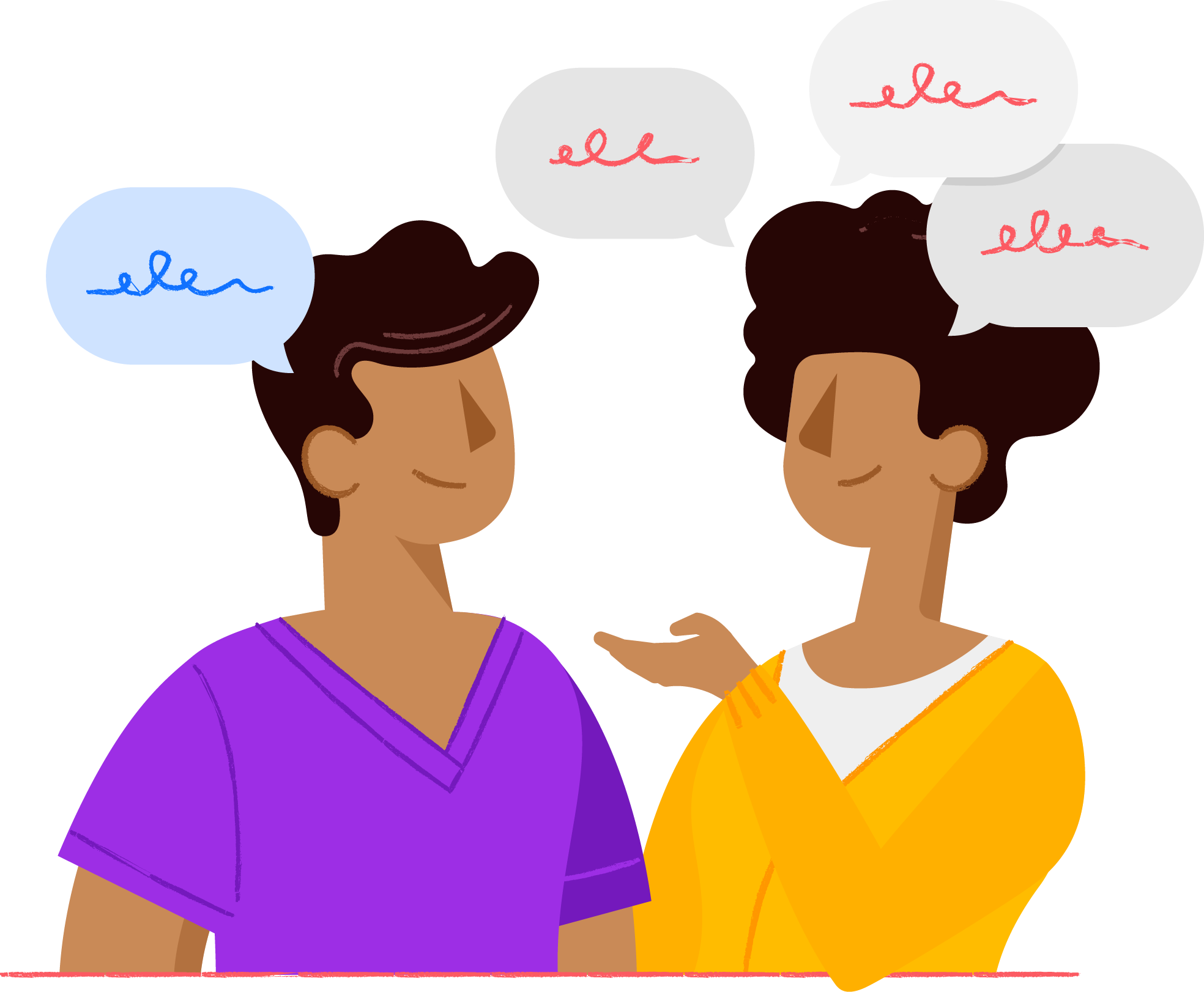 Become A Community Contributor
Share your story to help and inspire others. Write or create a video about your job or your opinions!
Contribute
Advancing Your Career And Improving Your Salary
A career in physical therapy (physiotherapy) or occupational therapy can be extremely rewarding, but the salaries are relatively modest compared with other industries. Nevertheless, there are ways to progress your career so you can enjoy a much greater income.
1. Develop your current skill set
As with any career, developing your skill set can be enormously beneficial as you will be able to respond well to any challenges that may come your way. At the same time, improving your skills will demonstrate your commitment to your chosen career as well as your willingness to provide patients with a high-quality service. Therefore, it is vital that you take the time to expand your knowledge. For example, you may wish to take a class or gain additional experience in order to increase your salary.
2. Choose a better work environment
If you think your current workplace is no longer providing you with the opportunities for growth, it may be worthwhile moving to a different setting. There is absolutely nothing wrong with seeking greener pastures, especially if it will help you improve as a person and as a therapist.
3. Move to another location
Similarly, moving to another location may also help you advance your career as larger and more urbanised areas often offer job opportunities with higher salaries. However, the competition could be more intense because of the greater population density. To succeed in areas where there is fierce competition, it is strongly recommended that you enhance your skills and qualifications.
Conclusion
A career in physical therapy or occupational therapy will be ideal for those who wish to work in the healthcare sector but who don't want to be a fully fledged doctor.
Both roles are fulfilling as they afford the opportunities to make a significant difference to people's lives.
Moreover, physical therapy and occupational therapy offer excellent salaries, especially if you possess advanced skills and work experience.
Although other industries such as technology and finance pay more, there are things therapists can do to advance their career and increase their salary.