Is There a Difference Between an Occupational Therapist and a Physical Therapist?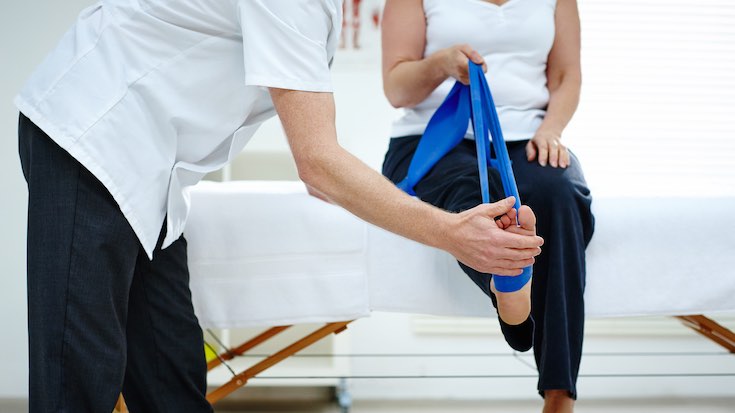 What's the difference between Occupational Therapy and Physical Therapist (Physiotherapist)? We break down the two job roles in this article.
Although an Occupational Therapist (OT) and a Physical Therapist (PT) share some similarities, one particular difference is that a PT will employ physical means to restore a patient's range of movement that has been affected by injury or illness.
For instance, they can adopt various strategies, techniques and methods, such as:
• Show service users how to manage their chronic conditions
• Assign remedial exercises; the patient's ability and health condition/injury will be assessed
• Use cold, heat, water, light and electric currents
• Apply massage and manipulation; in order to hasten the healing process, the Physical Therapist will use their hands to relieve a patient's muscle pain
These techniques are designed to improve the patient's ability to use the part of their body that is injured or disabled.
For example, as arthritis can cause stiff and painful joints, a Physical Therapist will help a patient deal with the pain by:
• Keeping their joints mobile
• Strengthening the surrounding muscles
Meanwhile, an Occupational Therapist offers healthcare support to patients with physical, psychological and social issues. They enable people to resume their daily activities despite the injury or disability they have sustained. Occupational Therapy focuses on:
• A patient's occupation and daily activities
• Enabling patients to live a full life despite their disability and limitations
• Supporting children to develop their skills in school and during play
• Understanding how the injury/disability is affecting the patient's ability to perform their everyday tasks
• Finding a person's strength and determining how they can use it to complete tasks in their home or workplace
• Helping people lead a meaningful life by providing them with programmes that are suited to their particular needs and requirements
Healthcare Jobs at Healthcarejobs.ie
Progress Your Career. Search 1000s of Healthcare Jobs
Search Jobs
What Is The Main Difference?
Although an Occupational Therapist and a Physical Therapist often perform many similar roles, the former tends to improve a patient's ability to successfully move all their body parts, while the latter mainly focuses on enabling patients to complete their activities of daily living (ADL).
Occupational Therapy
An Occupational Therapist will treat the whole person.
Besides helping them recover from an injury, they will provide guidance on how they can improve their:
• Developmental and cognitive abilities
• Motor skills
• Emotions and behaviours
The main goal is to help the patient fulfil their daily tasks.
Generally speaking, Occupational Therapy favours holistic methods, including wellness promotion and rehabilitation.
Occupational Therapy also covers mental health issues that are impairing a patient's work or everyday activities.
For instance, let us say a college student is suffering from depression which is causing them to struggle with their studies and social activities.
An OT will be able to devise a plan that will enable them to resume their former life.
This may include appropriate time management, goal-setting, self-care and developing coping skills to deal with the depression.
Physical Therapy
The primary focus of physical therapy is to treat the actual injury from a biomechanical perspective.
The treatment may involve:
• Improving a patient's mobility
• Correcting bone and joint alignments
• Reducing if not completely eliminating pain
A PT will utilise various techniques, such as massage and exercise, to help a patient regain their motion control.
They will also help clients by:
• Preventing or reducing the likelihood of injuries
• Avoiding the need for surgery if at all possible
• Reducing their long-term reliance on medication
In Ireland, the Irish Association of Physical Therapists (IAPT) and the Association of Occupational of Therapists of Ireland (AOTI) are the recognised professional bodies.
Where Do These Fields Overlap?
Despite their differences, Physical Therapists and Occupational Therapists share some similarities, such as:
• Educating people on healing processes and on how to prevent or avoid injuries
• Providing education and training to clients to improve their ability to perform everyday activities
A client may begin their recovery journey with physical therapy and then later transfer to Occupational Therapy.
For instance, a patient suffering from a severe stroke will first see a Physical Therapist to recover their muscle strength.
Subsequently, they will consult an Occupational Therapist in order to regain the basic skills that have been impaired by the stroke.
Such skills may include walking, eating and bathing.
Which Role Should You Choose?
As well as being extremely popular, both of these fields offer rewarding career prospects.
Nevertheless, Occupational Therapy will provide you with an opportunity to work with people from various backgrounds.
You will also have the chance to devise and implement specific treatment plans tailored to your clients' needs.
Benefits Of A Career In Occupational Therapy
You can monitor the success of your work as it develops Occupational Therapists not only help patients regain their independence, they also measure their progress.
If you think this type of work would be both personally and professionally rewarding, then Occupational Therapy may be the career for you.
You will have autonomy Like all healthcare professionals, OTs have to follow certain rules and regulations.
However, it is also possible to enjoy a certain degree of autonomy. Occupational Therapy is a profession where you will need to exercise insight and creativity.
Often, you will face challenges where you will need to find ways for your clients to adapt.
For instance, if a child is finding it difficult to develop their balance or range of motion in a medical facility, you may decide to take them to a park instead. Being surrounded by their peers may encourage them to fulfil their assigned exercises.
This approach could also improve their communication skills.
Career Prospects In Occupational Therapy
You can specialise in various disciplines, including:
• Children and adolescents
• Work and industry
• Rehabilitation and disability
• Mental health Health and wellness
Whichever field you choose, your success will be determined by how much time and effort you exert.
This is a career where you will need to possess the following attributes:
• Excellent communication and interpersonal skills
• Exceptional problem-solving and critical-thinking skills
• Tactfulness – the ability to appropriately offer constructive criticism
There are several universities in Ireland that offer a four-year course in Occupational Therapy.
There is also the option of a two-year accelerated postgraduate training course available to those who want to advance their studies.
All of these courses and programmes are certified by:
• AOTI
• CORU
• World Federation of Occupational Therapists
What Are The Typical Duties Of An OT?
• They gather information and insights from their clients' experiences
• They plan activities that will enable their patients to fulfil their daily activities
• They conduct tests and assessments
• They evaluate how patients manage their work and everyday chores
Conclusion
Physical Therapy and Occupational Therapy share similarities and differences. Physical Therapists focus on enabling their clients to regain their movements through physical means.
Meanwhile, although an Occupational Therapist can provide physical treatments, they also take care of a patient's psychological and social problems.
In addition, Occupational Therapists have more career advancement opportunities, such as in the fields of paediatrics and mental health.