14 December 2020
15 min read
What You Can Expect From Your Job As A Pharmacist In Ireland
Áine Mac Grory




Pharmacist
Aine Mac Grory
Caitriona Lemass
Aubrey Hollebon
Cormac Mac Grory
Victoria Greenland
Amanda Loughlin
Emer Kelly
Dana Dovey
Louise Kelly
Rebecca Doyle
Richard Gill
Matt Farrah
Mat Martin
Rosie Holohan
Bridget Cullen
Karen Gahan
Catherine Mcilroy
Rebecca Faulkner
Jake Fearon
Padraig Grory

1353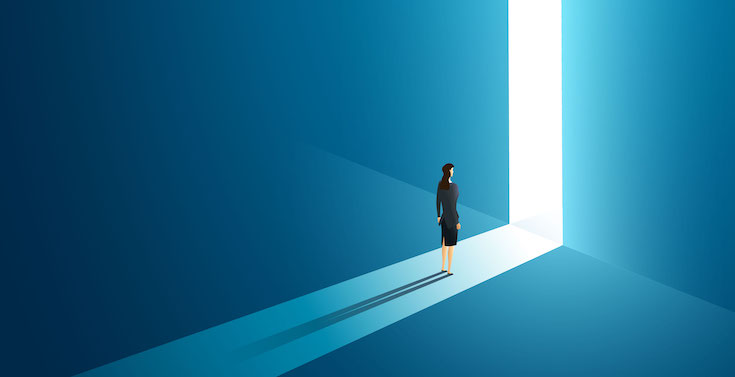 Expanding on her previous article, Locum Pharmacist, Áine Mac Grory, outlines what to expect as a Pharmacist with advice on the career opportunities and the challenges you might face.
Topics covered in this article
How Does Working For The State Differ To The Private Sector?
What Kind Of Settings Do Pharmacists Work In?
What Are The Career Opportunities For An Experienced Pharmacist?
What Are The Challenges Faced By A Pharmacist?
How Does Working For The State Differ To The Private Sector?
The majority of Pharmacist positions in the public sector are hospital based.
If you work in a public hospital as a Pharmacist, you will be an employee of the Irish Health Service Executive (HSE).
Each of these posts like any public service position is subject to rigid pay scales.
There are community-based positions in the HSE too which are usually categorised as Primary Care Community Pharmacist and would involve working in a local health office.
Working as a Pharmacist for the Health Service Executive offers (generally speaking) more favorable working conditions and benefits than that of the private sector.
Hospital Pharmacists would usually work Monday to Friday 9-5 with no weekend work or late nights and receive benefits like a HSE pension.
Working for the state offers more job security and career progression.
Public sector Pharmacist pay is usually less than that in the private sector.
When working as a Pharmacist in the private sector your pay would be dependent on your experience but more importantly your ability to negotiate.
Most private sector pharmacy positions are community and industry based although there are roles in private hospitals which would not be funded by the HSE.
Working conditions, hours, benefits are not standardised and vary from business to business.
It should be noted that while community pharmacy may have contracts with the HSE to provide prescriptions under government schemes they are privately owned companies.
What Kind Of Settings Do Pharmacists Work In?
The three main settings a Pharmacist can work in are Community, Hospital and Industry.
Within each of these settings are countless positions.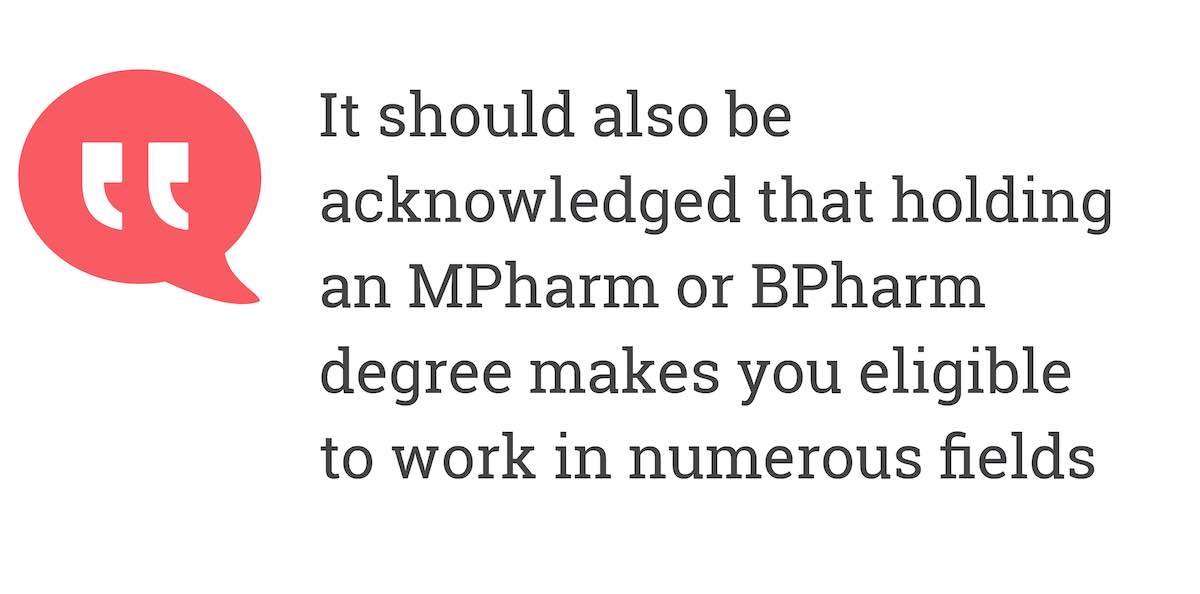 It should also be acknowledged that holding an MPharm or BPharm degree makes you eligible to work in numerous fields that are not always what would be considered conventional Pharmacist roles.
Occasionally positions become available in the government regulatory bodies such as the Health Products Regulatory Authority (HPRA) that are suitable for someone with a pharmacy background.
These positions would be involved with ensuring that companies involved in producing and marketing any health product is compliant with Irish legislation.
Academia and teaching is another area pharmacists can have their career in; this could involve lecturing and training students hoping to achieve their pharmacy qualification or working for the university on any number of pharmacy-based research positions.
What Are The Career Opportunities For An Experienced Pharmacist?
The majority of Community Pharmacists work in the dispensary of a pharmacy. Community Pharmacists can be sub categorised into Locum, Support, Supervising and Superintendent.
Superintendent Pharmacist
The pharmaceutical society of Ireland (PSI) defines Superintendent Pharmacist as "the individual responsible for the professional policy and clinical management of the pharmacy practice. This individual is in personal control of the management and administration of the sale and supply of medicines and has overall control of the professional and clinical pharmacy policy."
Supervising Pharmacist
The PSI also defines a Supervising Pharmacist as 'the person responsible for the day-to-day management and operation of the pharmacy.'
The Supervising Pharmacist 'can only act in respect of one pharmacy premises and must have a minimum of three years' post-registration experience.'
Support Pharmacists work under the supervising pharmacist and are responsible for the safe and effective running of the dispensary in the supervising pharmacist's absence.
Locum Pharmacist
Locum Pharmacists act as stand ins when the Regular Pharmacist in the dispensary is off.
For more detailed information on the work of a Community Pharmacist have a look at my previous article.
Hospital Pharmacist
In public hospitals the positions for Pharmacists are as follows; Pharmacist (basic grade), Senior Pharmacist, Chief I Pharmacist and Chief II Pharmacist.
Most Hospital Pharmacists' careers will start out either as an intern or basic grade Pharmacist and as more senior positions open up they can work through the ranks.
Hospital Pharmacist's roles will vary from hospital to hospital.
Hospital Pharmacists work for the pharmacy department in both public and private hospitals.
Some Hospital Pharmacists will work in a clinical capacity as part of a multi-disciplinary team while others will predominantly work in the hospital dispensary.
In general, they are involved with purchase, storage, supervision and supply of drugs or other relevant pharmaceutical items.
The Hospital Pharmacist (particularly in public hospitals) needs to ensure that therapy choices while economically sound are also clinically appropriate.
On occasion Hospital Pharmacists may have to provide training to other members of hospital staff to educate them on drug information and the economic use of drugs.
Hospital Pharmacists will be involved in medicine use reviews of patients and medicine reconciliations.
In some hospitals a Pharmacist will be involved in drugs and therapeutics committees and infection control committees.
The more senior Pharmacists will be responsible for developing policies and guidelines specific to the hospital on medication management.
---------- ---------- ---------- ---------- ----------
What do YOU think?
Let me know your thoughts in the Comments & click Like!
---------- ---------- ---------- ---------- ----------
Some hospital pharmacies are involved in compounding of medications on site using specialised equipment or facilities like an aseptic suite.
Here the Pharmacist will oversee the compounding of these medications.
They will be responsible for ensuring procedures and guidelines are in place and adhered to at all times to comply with medication safety standards.
Another option for Hospital Pharmacists is specialising in one clinical field such as psychiatry or oncology.
Where additional education is required, they will partake in relevant training.
The role of a Hospital Pharmacist is hugely dynamic and only the basic concepts have been touched on here.
When working in industry a Pharmacist (or person holding a pharmacy degree) can be involved in any element of the drug development process from the preliminary research phase to the postproduction phase and any stage in between.
Industry Pharmacist
Industry Pharmacists are heavily involved in regulatory affairs.
In the pharmacy industry for example when manufacturing a pharmaceutical product, the company involved must do so under the guidelines set out by the government to ensure the quality, safety and efficacy of that product to the public.
This requirement by the government results in hundreds of roles in quality control and quality assurance within the pharmaceutical industry.
Roles in regulatory affairs can be found in all stages of drug development, design, research, manufacturing and distribution.
Generally speaking, an Industry Pharmacist bases their practices around three key principles; Good Manufacturing Practice (GMP), Good Distribution Practice (GDP) and Good Pharmacovigilance Practice (GPvP).
Positions in quality control and quality assurance involve enforcing continuous auditing practices in order to ensure GMP, GDP and GPvP at all times.
GMP ensures that correct processes are in place when licensing, authorisation and manufacturing of a pharmaceutical product are being carried out.
GDP focuses on maintaining quality assurance of a pharmaceutical product during all steps in the supply chain (i.e. from the manufacturer to the shelves of the dispensary).
GPvP involves monitoring the effects of drugs after they have been licensed in order to identify any previously undiscovered adverse events or problems related to the specific drug.
Quality standards are overseen by a Qualified Person (QP).
Holding a pharmacy degree from Ireland (or or within the EU – an equivalent degree recognised by the Pharmaceutical Society of Ireland) gives you the educational requirements to become a QP.
A QP is responsible for certifying batches of medicinal products prior to use in clinical trials or prior to release for sale and placing on the market.
Not all Industry Pharmacist roles are within regulatory affairs.
An Industry Pharmacist can be involved with the research side which can be lab based academic roles or roles in conducting or over viewing clinical trials.
What Are The Challenges Faced By A Pharmacist?
Most topical at the moment of course is the challenge presented to all of us - COVID.
The main challenge in community pharmacy is how to continue operations safely with as little distress caused to the patient and the front-line staff as possible.
This is no easy feat.
During the first wave in March 2020 many GP surgeries operated a closed-door policy wherever possible.
Pharmacies were inundated with requests from the public.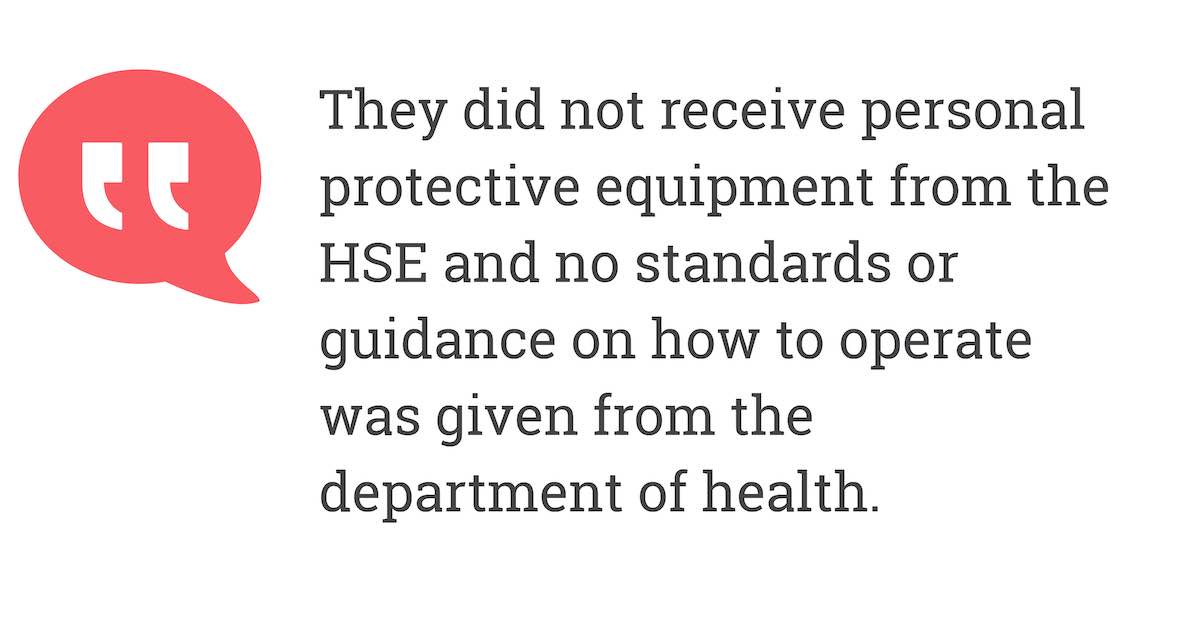 They did not receive personal protective equipment from the HSE and no standards or guidance on how to operate was given from the department of health.
This left pharmacy staff completely exposed and pharmacy owners with no financial support to 'COVID proof' their stores meaning risk of infection was high.
There is a duty of care and a code of conduct attached to the profession and employers are obligated to look after the welfare of their staff.
As such it was imperative that the dispensaries were safe to work in to avoid the staff falling ill to COVID.
Some pharmacies closed their doors, some introduced one in one out policies and some constructed Plexiglas screens to create a physical barrier between staff and patients.
Operating in any of these manners poses huge financial challenges to pharmacy owners.
The COVID pandemic resulted in considerable loss of earnings in many pharmacies resulting in them having to make redundancies.
This resulted in a stress on all pharmacy staff and many
Pharmacists risking burnout – some were left no choice but to leave. Locum Pharmacists were then recruited to cover the temporary absence of a regular Pharmacist which is further challenging for the regular staff, patients and locum assigned on the day.
Working under new COVID safety regulations leads to additional challenges with communication.
When masks are worn, and you are speaking behind a plastic barrier it is incredibly difficult for either party to hear.
In community pharmacy a large amount of the patient population are elderly and often this comes with impaired hearing.
It can be incredibly frustrating for the patient when the Pharmacist is trying to discuss their medicines with them, but they cannot hear.
The Pharmacist now needs to maintain social distancing, remain discreet and ensure that the patient is counseled on all medication where appropriate.
There have always been challenges faced in the pharmacy profession prior to COVID.
The profession is poorly represented as was apparent during the first wave.
Pharmacists and pharmacy staff were considered essential workers however no adequate support or acknowledgment was received.
Unlike other professions, such as
Nursing, Pharmacists in community are often isolated meaning it is unusual in community pharmacy to interact closely with another member of your profession.
For small independent pharmacy owners who are largely Pharmacists the changes in policy and reimbursement from the HSE always presents financial challenges and they are left fighting to make up the shortfall wherever they can.
It is made particularly more challenging since pharmacies were deregulated.
This allowed multinationals to set up next door and aggressively compete with nearby small independents.
Pharmacies have a contract with the HSE whereby they provide medicines under the relevant government scheme at a massively reduced or no cost to the patient.
The pharmacy submits a claim at the end of each month for reimbursement of the cost of supplying these medicines and the relevant fee associated with each scheme.
These fees are reviewed and reduced regularly and the HSE will now only reimburse cost or less for the medicine supplied.
This means that not only does the Pharmacist not receive any profit for this item, but they are actually operating at a loss so only have the opportunity to make money on the reimbursement fee.
In any other profession this would not be tolerated because their unions would step up.
Community pharmacy by in large is a business and like any other business, profits earned pay wages and rent.
Medicine shortages are another challenge faced in community and hospital settings.
---------- ---------- ---------- ---------- ----------
What do YOU think?
Let me know your thoughts in the Comments & click Like!
---------- ---------- ---------- ---------- ----------
It causes frustration for prescribers, patients and Pharmacists.
Pharmacists are often left bearing the brunt of this frustration.
It is often the case that alternative medication suggestions are made and while clinically appropriate it can mean the patient has to pay privately for this medicine.
Pharmacists must prove they are staying updated on current medicines and guidelines.
In order to do this, they must take part in continued professional development. Each year a Pharmacist must record and complete 30 hours of learning specific to pharmacy practice.
This is often done out of normal working hours and can be time consuming. Changing technology has been a new challenge to Pharmacists and adapting to electronic prescriptions (which has only been introduced during the first wave of COVID) and the legal requirements associated with that has been challenging.
The continued and rapid changes made to legislation and the regulations surrounding the safe supply of medications is an ongoing challenge for Pharmacists.
Pharmacists need to keep up to date with all of these to operate both legally and safely for their patients.
In any pharmacy role that is patient facing there will always be disgruntled or at times aggressive patients.
It can be challenging to be on the receiving end of this aggression.
While the profession is not stress free as can be seen from the challenges outlined above Pharmacists have learned to adapt.
While it can be challenging to learn new technologies, it is also important for the progression of the role and when mastered it will stand to benefit the profession.
Since the COVID crisis the majority of the general public has shown compassion and appreciation to the pharmacy team as a whole.
No profession is without its challenges but there are many rewards that come with it too and those rewards are what make this career so satisfying, fulfilling and enjoyable.
Let me know in the comments your thoughts on working as a Pharmacist and what I've written above - let's chat there!
Oh, and please Like this article to let me know you enjoyed it - thank you!